Customer Story
Kvarøy Fiskeoppdrett
Optimizing Sustainable Aquaculture Decisions with AI Data Intelligence
In the vast ocean of aquaculture, Kvarøy Fiskeoppdrett stands out as a beacon of sustainable aquaculture practices, with an unwavering commitment to the environment. Nestled near the Arctic Circle in Norway, Kvarøy has pushed to redefine industry standards and inspire a change in global consumer perceptions of aquaculture. When it came to needing a new way to utilize their farm data to improve insights and streamline operations, their unyielding approach to innovation was no different, looking to Manolin as a way to easily unlock data intelligence.

The New Age of Aquaculture
Norway is home to 1,263 fish farms, 985 of which farm salmon. In 2022 alone, these farms accounted for 1.5 million tonnes of salmon, accounting for 50% of the world's total production. However, regardless of the country's continued success and dominance of the industry, common challenges such as sea lice monitoring, disease tracking, and feed optimization remain throughout farm operations.
For Kvarøy, this was no exception. In a world where regulations are tightening, operational costs are rising, and creating product differentiation is growing harder, Kvarøy looked to data intelligence as an innovative way to overcome barriers and unlock new opportunities for their farm.
Launching themselves into a new age of data intelligence, Kvarøy looked at Manolin to start leveraging their aquaculture AI intelligence platform in various ways. Through Manolin's ability to instantly streamline all farm site data into one centralized platform, Kvarøy has unlocked operational benefits by automating sustainability reporting, migrating data easily into new systems, and accelerating aquaculture feed research faster than ever before.
Automating ASC & Sustainability Reporting with Manolin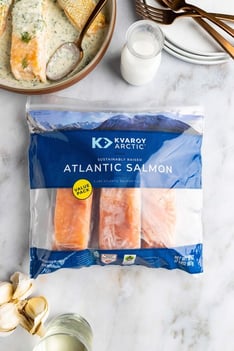 Over the years sustainable certifications have gained importance in distinguishing eco-friendly products for consumers. The Aquaculture Stewardship Council (ASC) has established itself as one of the most recognized organizations in setting the standard for responsible aquaculture practices. In Norway, 318 farms across the country have achieved ASC certification (as of 2023), covering a range of farmed species. These farms' commitment to sustainability and producing high-quality seafood while minimizing environmental impacts is highlighted by the ASC certification.
However, ensuring sustainability and maintaining the necessary reporting can be a time-consuming and tedious task. Gathering data from various sources and file types can be a challenge, and this reporting is essential for staff and board members to continuously improve discussions regarding sustainability practices. It is crucial to have accurate and up-to-date information for decision-making processes.
This is where Manolin comes into play. Manolin's platform was able to significantly simplify the process of managing key data sets for ASC reporting and instantly reduce hours of work into seconds. By optimizing ASC public reporting without the need of using any staff time, Manolin was able to easily save countless hours of invaluable time and resources, allowing Kvarøy to focus on other vital aspects of their operations. With easier access to data, Kvarøy's stakeholders gain clearer transparency and understanding of their sustainability performance, empowering board members to make informed decisions and drive positive change even faster.
The reporting summaries generated by Manolin also facilitate board meetings and collaborative activities. By presenting concise and comprehensive reports, the platform enhances the decision-making process, enabling stakeholders to have a better understanding of Kvarøy's sustainability performance. This accessibility to data empowers board members and staff to make informed decisions faster and drive positive change within the organization. With the increasing importance of sustainable certifications, it is crucial for aquaculture companies like Kvarøy to continually improve access to accurate and reliable data and reporting tools while staying focused on their core mission of producing high-quality seafood.
Simplifying Data Migrations into New Farm Systems
Effective data management will continue to become more crucial for aquaculture farms to integrate, especially when it comes to securing, adding, and transitioning historical data onto multiple systems. According to the data platform Tracxn, there are currently over 1,440 aquaculture software companies globally. With so many options available to farms, having a data intelligence platform that centralizes and simplifies farm data sets across multiple data systems can strategically align operational data and ensure integrity. Data intelligence allows for easier access, analysis, and utilization of data, leading to improved decision-making processes backed by AI machine learning. Manolin's platform offers precisely this, providing a reliable and efficient solution for farm data management.
When Kvarøy decided to modernize onto newer farm inventory systems they looked to Manolin once again as their solution. Acting as a trusted third party, Manolin smoothly guided and validated the migration process onto the new inventory system, minimizing any data management risks along the way. Our team worked closely with Kvarøy to understand their unique requirements and objectives, ensuring seamless integration of existing data into the new system without any loss or compromise to their data.
Manolin's facilitation of transferring historical data provided Kvarøy the flexibility to adapt to changing requirements without the need for additional development and resources. By leveraging Manolin once again, their team was able to quickly transition systems, minimizing downtime and granting swift access to an updated and improved inventory tracking solution.

Enabling Aquaculture Fish Nutrition & Accelerating Research
Manolin's platform is transforming the way farms like Kvarøy engage in aquaculture research studies, propelling innovation through the use of cleaner and more comprehensive in-field data. By seamlessly opting their data in with research initiatives, Kvarøy can effortlessly contribute to new research, enabling faster and more efficient research processes. This revolutionary opportunity not only allows Kvarøy to make significant contributions to groundbreaking research but also grants them deeper insights into their farms, driving continuous improvement.
The impact of Kvarøy and Manolin's collaborative research extends beyond their operations. Easily participating in research opportunities through data submissions grants Kvarøy an active role in driving environmentally friendly approaches to aquaculture. This dedication to research and innovation holds tremendous promise for the entire fish feed industry, promoting sustainability and fostering positive change. Together, Kvarøy and Manolin are forging a path toward a more sustainable future, where fish nutrition aligns harmoniously with ecological responsibility.
The Role of AI in Revolutionizing Aquaculture
Aquaculture farms can be at the forefront of sustainable aquaculture by unlocking the power of data intelligence. Sign up for a free account on Manolin's platform today and experience firsthand how it supercharges farm insights, propelling your operations to new heights.
Don't wait any longer to harness the power of data intelligence. Sign up for free or Schedule a Demo today and embark on a transformative journey for your operations.
Get Started
What insights will you discover with Watershed?
Aquaculture Insights
Read Our Latest Articles
Discover trends, current events, customer stories, & more