Customer Story
Veramaris
Harpoon: Elevating Veramaris' EPA + DHA Research for Sustainable Aquaculture
In the fast-evolving world of sustainable aquaculture, Veramaris stands at the forefront, leading the charge with their groundbreaking research on the impact of essential omega-3 fatty acids on farmed salmon feed. As a company dedicated to innovation and science-driven solutions, Veramaris sought to deepen their understanding of EPA + DHA levels to optimize fish health and welfare. To achieve this, they recognized the need for a reliable partner with data expertise and benchmarking capabilities, which led them to collaborate with Manolin.

Leveraging Manolin's Data Expertise & AI Capabilities
With a clear focus on EPA + DHA, Veramaris sought to measure performance in real-world conditions, empower farmers to optimize their returns on investment, and validate outcomes. While existing science had already been documented to show that dietary levels of EPA + DHA should be at or around 3.5% of diets (10% of total fatty acids) to get optimal performance, health, welfare, and quality outcomes in fish, it was still unclear how such benefits translated under commercial conditions (and if so) if those benefits economically justified.
For Veramaris, it was well understood that salmon farmers needed to be able to quantify these benefits to help them make risk-based decisions for changing feed specifications. Having previously supported research on optimum omega nutrition levels, these past projects ultimately ran into unfortunate constraints at the studies commercial farm sites, making it hard to recover conclusion results at the end of the day.
Recognizing the new importance of 'big data' and the advantages that comes with AI, Veramaris approached Manolin with a distinct interest in leveraging their data expertise and platform capabilities to answer these questions in a new way. With their confidence in Manolin's structured and advanced data sets, Veramaris saw the potential for collaboration to further their research in real-world, real-time settings, backed by 'big data'.
"During our search for a partner our team was impressed by Manolin's data expertise and their ability to provide valuable insights in real-world settings. Their benchmarking capabilities were a perfect fit for our research objectives, allowing us to optimize our operations and validate outcomes for the benefit of both our customers and the aquaculture community" said Ian Carr, Senior Director for Global Business Development at Veramaris"
Enhancing Farmed Salmon Feed for a Sustainable Future
In the pursuit of advancing sustainable aquaculture practices, Veramaris embarked on their new groundbreaking research initiative with Manolin to explore the impact of essential omega-3 fatty acids on farmed salmon feed.
EPA (eicosapentaenoic acid) and DHA (docosahexaenoic acid) are key components of salmon feed, playing a crucial role in fish health and welfare. These omega-3 fatty acids are responsible for supporting vital physiological processes, including optimal growth, organ development, and immune function. The research study aimed to answer critical questions about the varying dietary levels of EPA and DHA and their implications on performance and quality.

As the aquaculture industry faces increasing demand and sustainability concerns, Veramaris sought to address these challenges through innovation and cutting-edge research with advanced data sets. By delving into the differences in performance and quality between different dietary levels of EPA + DHA, Veramaris aimed to set new standards and understanding for the industry on optimal EPA + DHA inclusion.

"At Veramaris, we are committed to making a positive impact on the aquaculture industry through innovation and science-driven solutions," stated Gertjan De Koning, CEO at Veramaris. "Our research endeavors seek to unlock the full potential of EPA and DHA in salmon feed to promote fish health, welfare, and ultimately, sustainable aquaculture practices."

As Veramaris prepares to share its research findings with the world, the upcoming presentation at the AquaNor conference in Trondheim, Norway, promises to be a pivotal moment for the industry. With a focus on collaboration, insights, and breakthroughs, Veramaris' dedication to advancing the health and sustainability of farmed fish continues to shape a more promising future for aquaculture worldwide.

Understanding Harpoon: Empowering Veramaris' EPA + DHA Research Process
Manolin's Harpoon (an innovative aquaculture research data intelligence platform) was a perfect fit to immediately elevate Vermaris' research capabilities. The Harpoon platform provided a comprehensive way to conduct research analyzing and interpreting complex data related to EPA + DHA. To meet Veramaris' research needs, Harpoon proved instrumental in unlocking critical knowledge to drive sustainable practices in the aquaculture industry.
Vermaris needed a way to investigate and find out if certain variables (such as growth, feed conversion, mortality, and harvest quality) differed between generations of salmon raised on different levels of omega nutrition. With Harpoon's benchmarking capabilities, the team could now easily compare variables to understand differences across generations of salmon raised on various levels of omega nutrition.
Setting up the study was a much less meticulous process than traditional formats, spanning 10 to 11 weeks of intensive data analysis and research utilizing the extensive Manolin network. Before analysis, the data underwent rigorous cleaning and isolation to ensure accuracy and relevance. The study drew upon information collected from over 99 farms across the salmon landscape, encompassing an impressive 291 generations of farm salmon. The data analyzed spanned the years 2013 to 2022 and included aquaculture production areas 2 through 8 (in Norway), culminating in a staggering total of 232.6 million fish.
Manolin's Deliverable Expectations
Manolin's anticipated deliverables were designed to be both comprehensive and invaluable in helping Veramaris achieve their research goals. Following the 11-week study, Manolin would provide Veramaris with a case study, accompanied by a concise benchmarking report summarizing the study's findings. This report would offer essential comparisons of performance and quality among fish fed with varying levels of oil content, product types, and across different farm locations. Additionally, participating farms would receive farm-specific overviews, rewarding their involvement in supporting the research study directly. This comprehensive package of deliverables aimed to equip Veramaris' team with science-driven solutions, strategically positioning them for future success.
Key Insights: Unveiling the Impact of EPA + DHA Levels in Salmon Feed
Throughout the 11-week study, the results obtained by Manolin provided invaluable insights into the impact of EPA + DHA levels on farmed salmon feed production. Across the data metrics monitored, Manolin found statistically significant results of both feed performance and overall harvest quality. Most notably, the results indicate that at EPA + DHA levels above 8%, farmers have seen a statistically significant improvement in the performance in the categories of superior quality and mortality percentage.
The data collected and analyzed by Manolin has opened new avenues for Veramaris' research strategy. Armed with these compelling results, Veramaris' team is poised to leverage the data-driven approach in helping amplify the benefits and importance of EPA + DHA to the aquaculture community and their customers through science-backed data insights.

"The results surpassed our expectations, providing a significant breakthrough in our understanding of EPA + DHA levels' impact on farmed salmon feed production," said Yann Le Gal, Global Business Development Manager at Veramaris. "With Manolin's expertise and robust data analysis, we are equipped with invaluable insights to further support fish health and welfare". We look forward to further collaboration with Manolin as we continue to lead the way in science-driven solutions for the aquaculture industry."
Findings from the project confirm (without a doubt) that beneficial differences do exist across several response categories, justifying the application of algal oil in salmon feed formulations to help provide optimum nutrition that deliveries benefits across health, welfare, performance, and quality. Most importantly, the research has shown that all this can be done without increasing dependency on wild fisheries.
Accelerating Aquaculture Research with Harpoon
The results of Veramaris' partnership with Manolin and their data intelligence platform, Harpoon, have demonstrated the immense potential of leveraging data intelligence in aquaculture research. Accelerating aquaculture research enables companies to discover key insights to enhancing fish health, optimizing feed performance, and driving sustainability in aquaculture even faster. With the help of Manolin's Harpoon platform, aquaculture suppliers can be at the forefront of sustainable aquaculture.
Experience firsthand how Manolin can supercharge your insights too. Sign up for free or Schedule a Demo today and embark on your own transformative journey.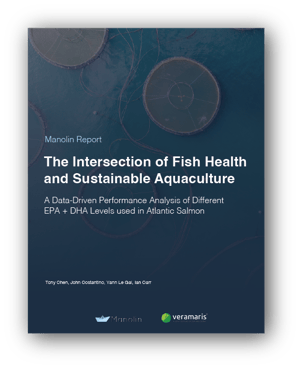 Get Started
What insights will you discover with Harpoon?
Aquaculture Insights
Read Our Latest Articles
Discover trends, current events, customer stories, & more